Food, Wine
How Bakersfield Became Famous for Fried Chicken
It's California Wine Month — celebrate with this delicious recipe!
Basque-Style Fried Chicken
Bakersfield, California is known for its Basque-Style Fried Chicken and the unique family-style dining halls like Wool Growers and Pyrenees Cafe where it's served. Home to the second-largest Basque immigrant population in the U.S., "Basque Block" in Old Town Bakersfield is the hub of cultural life and delicious cuisine. Fried chicken is always delicious, but Basque-Style Fried Chicken is topped with a punchy garlic and parsley butter sauce that makes it truly one a kind. Cut the richness and pair with a glass of California sparkling wine or California Chardonnay.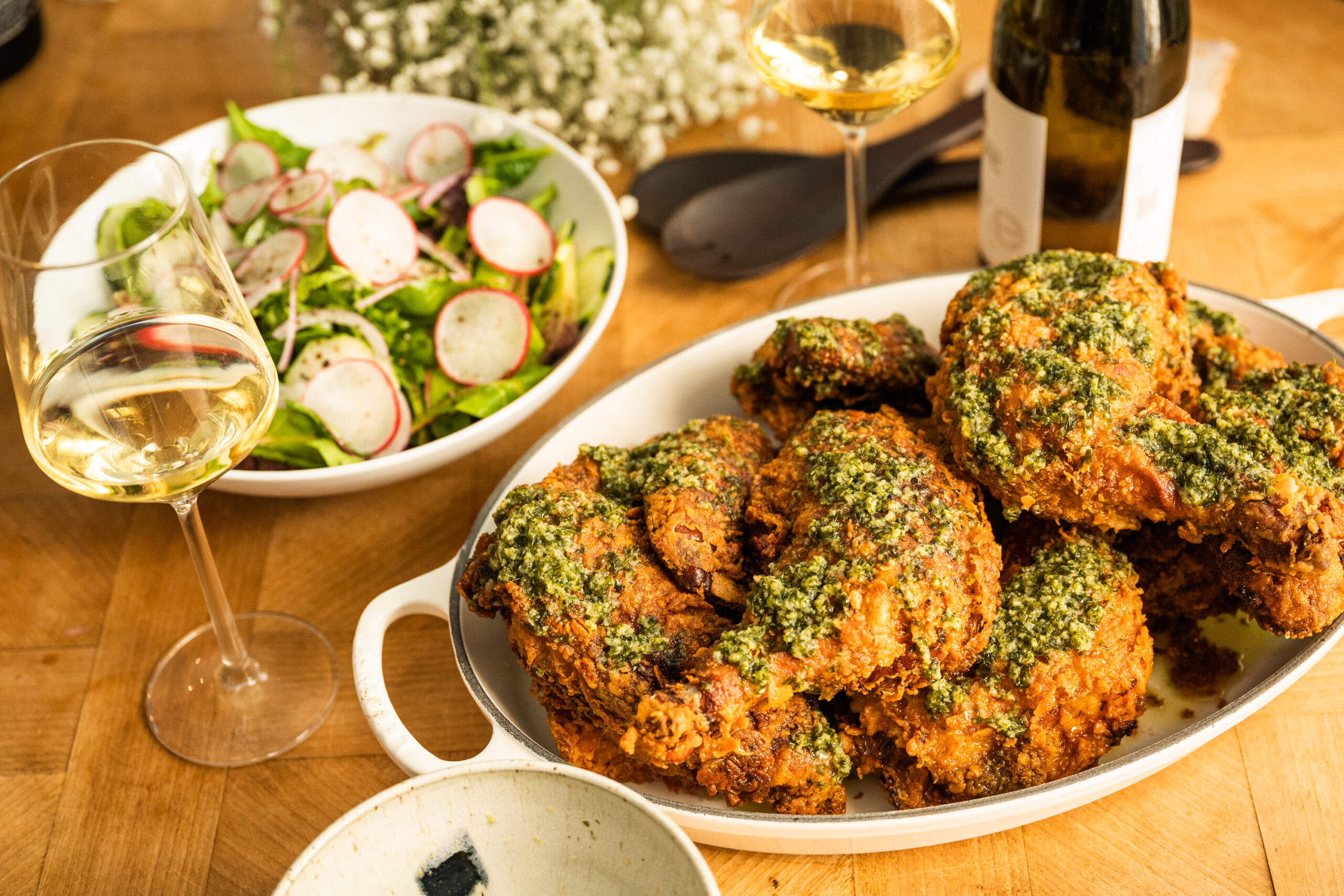 Ingredients
2 cups (490g) full-fat buttermilk
1 tablespoon (8g) granulated chicken base
10 cloves garlic, grated
2 tablespoons (20g) garlic powder, divided
2 tablespoons (14g) black pepper, divided
2 tablespoons (12g) kosher salt, divided
2 whole chickens, cleaned, quartered and patted dry
5 cups (600g) all-purpose flour
Canola, grapeseed or peanut oil, for frying
Garlic & Parsley Topping
1 cup (227g) salted sweet cream butter
8 cloves garlic, minced
1/2 bunch fresh parsley, finely chopped
Directions
In a large bowl, combine the buttermilk, chicken base, grated garlic, garlic powder, black pepper and salt. Add the chicken and toss to coat.
Cover with plastic wrap and let the chicken marinate in the refrigerator for at least 2 hours, or up to 12 hours/overnight.
In a separate bowl, mix the flour with the remaining garlic powder, black pepper and salt. Toss the marinated chicken in the seasoned flour, ensuring each piece is completely coated. Shake off any excess flour and place the chicken pieces on a baking rack until ready to fry. The longer the floured chicken sits, the better the coating will stick when you're frying.
Fill a Dutch oven with enough oil to completely submerge the chicken and line a baking rack with paper towels. Heat the oil over medium until a deep-fry thermometer registers 300°F (148.8°C), then fry the chicken in batches, turning occasionally for even color and to prevent burning.
Adjust the heat as needed to keep the oil's temperature stable. Each piece is done when an instant-read thermometer registers 165°F (73.8°C) when inserted into the thickest part of the chicken; this should take 15-20 minutes. Cool on the prepared baking rack.
GARLIC & PARSLEY TOPPING
In a small skillet, melt the sweet cream butter over medium heat until just starting to brown.
Sauté the minced garlic and parsley until the garlic is softened, 5 to 7 minutes. Decrease the heat if needed to keep the garlic from darkening and getting bitter.
Spoon the topping over the fried chicken to serve.
Friends of Fried Foods
We've said it before and we'll say it again, California sparkling wine is excellent with fried foods. Fresh and vibrant California sparklers with their bright acidity help cut through and balance the richness of this fried chicken. Alternatively, choose a crisp, clean Chardonnay that has been fermented in stainless (rather than oak). Chardonnay is the most widely planted white winegrape in California for good reason — it's versatile, food-friendly and complex.