‹ Back to Recipes
Grilled Pork Shoulder Chops with Nectarine Slaw
Take over grill duties on Father's Day and show dad you have the right stuff with these succulent pork chops. Shoulder chops aren't as common as loin chops so you may need to ask a butcher to cut them for you. They have more flavor, and this garlicky rub guarantees that they will be a dish you want to make all summer long. Juicy California nectarines make this slaw a standout.
Pairs With
Ingredients
Rub: 
2 teaspoons dried oregano, crushed between your fingers

 

1-1/2 teaspoons kosher or sea salt

 

¾ teaspoon garlic powder

 

¾ teaspoon ground fennel

 

¾ teaspoon paprika 

 

4 bone-in pork shoulder blade chops, about 8 ounces (225 g) each and ½ inch (1.25 cm) thic

k

 

1 tablespoon 

extra-virgin

 olive oil

 
 Dressing: 
¼ cup 

(60 ml) 

extra virgin olive oil

 

2 tablespoons apple cider vinegar, or more as needed

 

2 teaspoons honey 

 

Kosher or sea salt and freshly ground black pepper

 
 Slaw: 
½ pound 

(225 g) 

green cabbage, cored and very thin sliced

 

¼ pound 

(115 g) 

radicchio, cored and very thinly sliced

 

1 large carrot, peeled and grated

 

1/3 

cup 

(40 g) 

minced green onion, white and pale green parts only

 

1/3 cup 

(40 g) 

toasted slivered almonds

 

1 large ripe but firm nectarine, very thinly sliced

 
Serves 4
Instructions
In a small bowl, combine all the rub ingredients. Brush the chops on both sides with the olive oil. Sprinkle both sides of the chops with the rub, pressing it into place with your fingers. Place the chops on a rack set over a tray and refrigerate, uncovered, for 8 to 24 hours. Bring to room temperature before grilling. 
 Make the dressing: In a small bowl, whisk together the oil, vinegar, honey, and salt and pepper to taste. 
 Prepare a moderately hot charcoal fire or preheat a gas grill to medium-high.  
Make the slaw: In a large bowl, combine the cabbage, radicchio, carrot, green onion, almonds, and nectarine. Toss to mix. Add enough of the dressing to coat the slaw lightly; you may not need it all. Toss gently and taste for seasoning. 
 Grill the chops about 5 minutes per side for medium doneness. Let rest 5 minutes to allow the juices to settle, then serve with the slaw.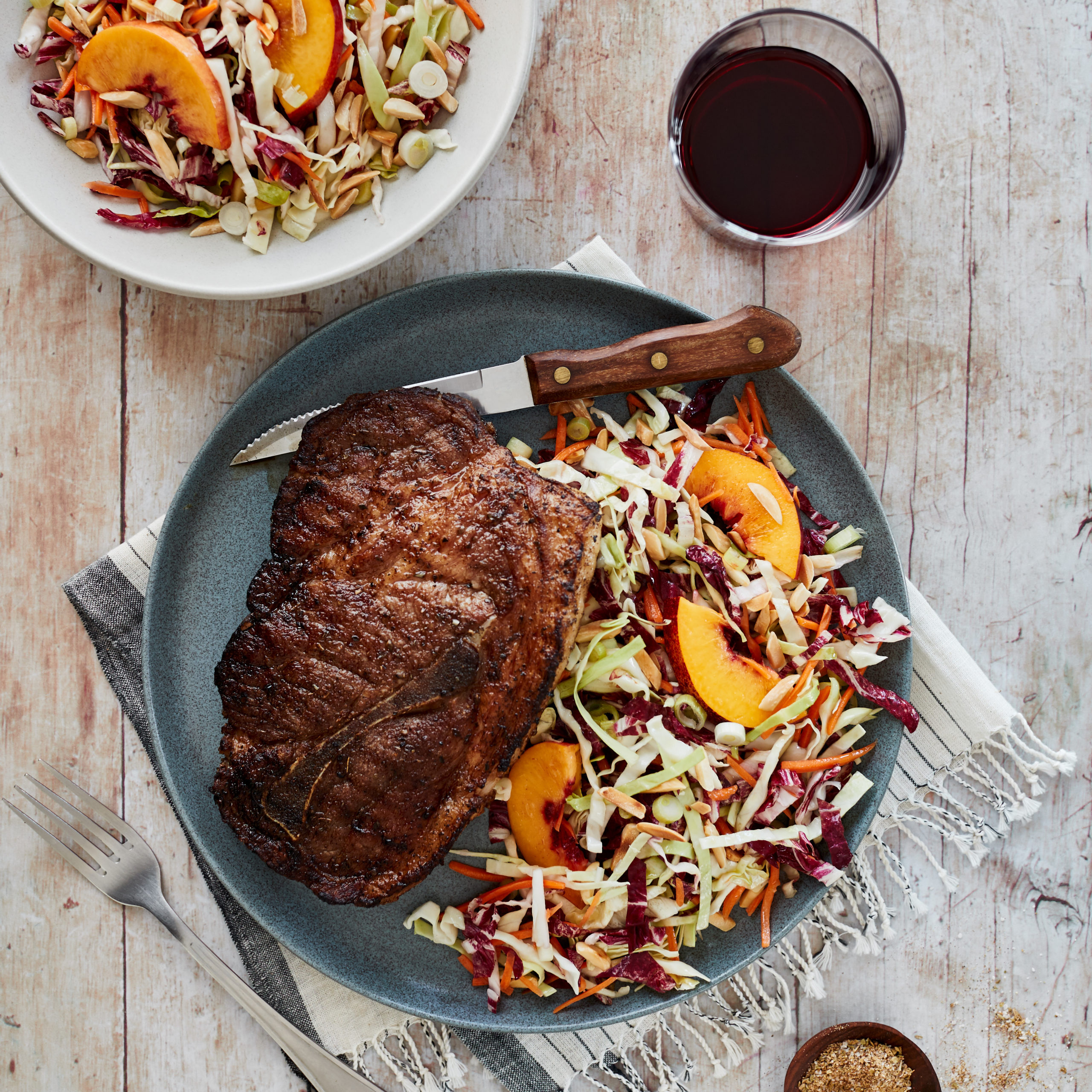 Pairs With