‹ Back to Recipes
Mission-Style California Burritos
The Mission burrito first became popular during the 1960s in the Mission District of San Francisco, California. Known for it's large size, inclusion of rice, beans, meat and additional fillings and wrapped in foil.
Pairs With
Ingredients
Asada Seasoning
1 teaspoon (1g) Mexican oregano
1 teaspoon (2.3g) paprika or piment d'esplette
2 ½ teaspoons (5g) kosher salt
½ teaspoon (.9g) cayenne or spicy chili powder
½ teaspoon (1g) cumin
½ teaspoon (2.5g) garlic powder
½ teaspoon (1.1g) black pepper
For the Burritos:
1 lb. (454g) beef top sirloin
2 teaspoons (4g) kosher salt, plus more to taste
10 tablespoons (140g) pork lard (recommended) or extra virgin olive oil, divided
1 15-oz (425g) can pinto beans, drained and rinsed
1 avocado
1 lime, juiced
4 large (9-10 inch/23-25 cm) flour tortillas
1 cup (113g) shredded Monterey Jack cheese
1 cup (240g) store-bought pico de gallo salsa
½ cup (120g) sour cream
¼ cup (60g) salsa verde
Instructions
Mix together the asada seasoning in a small bowl and set aside.
Slice the sirloin cross-wise into two steaks, approximately ½-inch/1.25-cm thick. Seal the meat inside a plastic bag and pound it using a rolling pin or meat tenderizing mallet until each cut is ¼-inch/6mm thick. Remove from the bag and season liberally all over with the asada mix, reserving a generous pinch for the finished steak.
Add the beans and 3 tablespoons (42g) pork lard to a small pot. Cover and warm over low heat. Separately, in a bowl, Roughly mash the avocado, then stir in the lime juice. Set aside.
In a skillet, heat 5 tablespoons (70g) pork lard over high heat, then sear the sirloin until browned, 1 to 2 minutes per side, working with one steak at a time so you don't crowd the pan. Remove the steaks from the skillet and let rest for at least 5 minutes, then slice the steak into ¼-inch strips and roughly chop. Season again with a sprinkle of the asada mix.
Assemble the burritos one at a time. Sprinkle ¼ cup (28g) of shredded cheese across the middle of the tortilla, in a strip that's parallel to you, leaving a 1-inch/2.5cm gap between the cheese and either edge of the tortilla. Top that with ⅓ cup (43g) of beans, then ½ cup of chopped carne asada, then ¼ cup (60g) of pico de gallo. Drizzle with 2 tablespoons (30g) sour cream and 1 tablespoon (15g) salsa verde. Use a spoon to spread a quarter of the mashed avocado along one side of the fillings.
To wrap: Fold in the left and right edges. While holding those in, fold the side of the tortilla closest to you over the filling and continue to tightly roll until everything is sealed and secure. Heat the remaining 2 tablespoons (28g) lard over medium-high heat, then sear each burrito just until the tortilla is crispy and golden brown, 1 to 2 minutes per side. Wrap in foil, then slice in half to serve.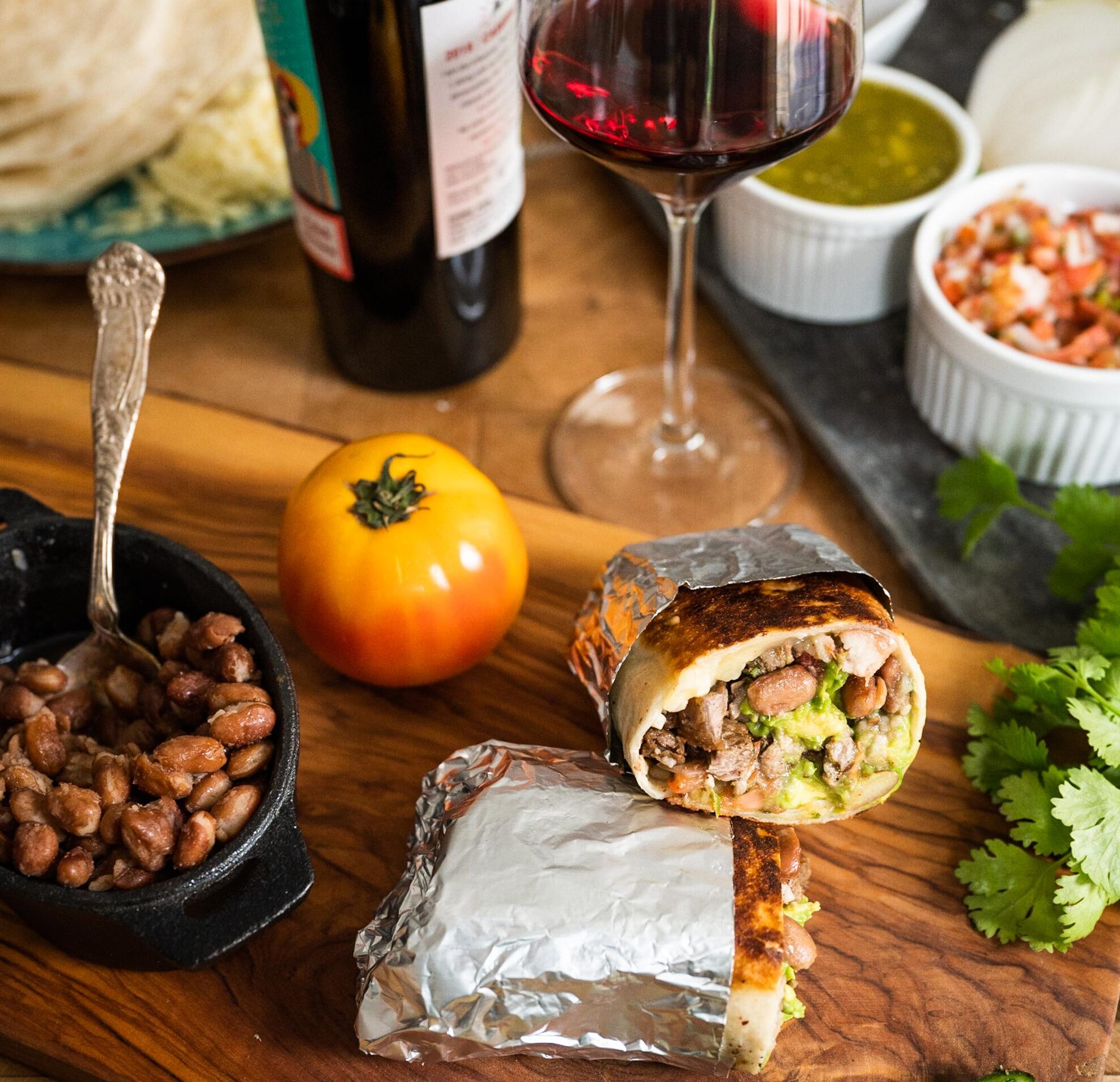 Pairs With